In the modern fast-paced world, it is challenging to maintain a healthy lifestyle, especially when it's time for nutrition on the go. However, with the rise of innovation in kitchen gadgets, it is easy to stay committed to your health well being. One such game-changer gadget or appliance is the Blendjet blender which is low maintenance, powerful, and portable and changes the way by which we consume shakes, beverages, and snacks.
What is a low-maintenance portable blender?
A low-maintenance portable blender by blendjet is a compact, efficient and USB-chargeable gadget that is designed especially for hassle-free blending experiences for busy lifestyles. This blender is specially designed for those who love to have a fresh smoothie, shakes, and other blended treats without any complex traditional juicer or mixer on the go. This blendjet provides the perfect solution by combining power, easiness, portability, slim, compact and many more.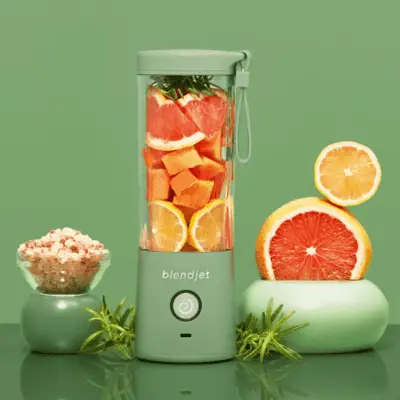 How it is a big help to me?
My morning was always a big struggle because we all love to have smoothies and juices in the morning. Our day starts with shakes, smoothies, and juices. I mostly skip my shake due to efforts and cleaning of the juicer or mixer. I always take it a headache to clean a big mixer or juicer, and the kitchen becomes messy. But one day, my sister suggested I buy this BlendJet. I have a self-cleaning blender cum smoothies maker. Now I am so used to it that I have never skipped my shake in the morning.
It is super easy to use. It has a push button to start it. It creates a tornado effect whether you add veggies, fruits, ice cubes, or frozen fruits. If you double press the button, it starts pulse mode which is perfect for food processing. It has a lock system so that you can carry it very safely while travelling or going to the gym.

It's a charging appliance. With one hour of charging, you can use it 15 times for blending. We all love to have a device or appliance that cleans itself without our huge efforts. So I love this feature in it. It is a self-cleaning appliance. Your efforts are there but very less. Add water and liquid soap as required and blend. rinse it properly.

This is one of the powerful blenders that I love the most. 

Its cup or jar is used as a drinking cup. Now no need to carry an extra cup or glass. I always add fruits, milk and some sugar. Whenever I feel hungry, I just blend it and drink directly from its jar. You can easily clean it as its USB port is water-resistant.

Try to add small-sized fruits otherwise fruit pieces will stuck under the blades. 

It's not a boring type blender. It comes with so many variations and colors. 

After getting this blender, I got the freedom to go anywhere and blend my favorite smoothies, shakes, baby food, and frappes without any limitations. It's a must-try blender.
The following are the features of the blendjet blender:
This blendjet is perfect for jetting around the city and forgetting about any damage as it is made from durable material. Take this blender right into your backpack and enjoy the drink or smoothie whenever required. It is very slim and takes up very little space.
This blendjet has the performance a big blender has irrespective of its small and slim size. As per the company, it blends anything in just 20 seconds like ice, fruits, frozen fruits, vegetables, leafy greens and many more included in this category.
Using a blender that has a power cord or using batteries is a big mess and a problem for those who love to travel and go to the gym. So, this blendjet has a USB recharging point. With 1 hour of charging, you can use it for 15+ blends. Its USB-C charging port is water-resistant. A charging cable is included with this product.
Everyone loves to have food and drinks, but nobody loves to clean the appliances after usage. If you are in this category then this appliance is the best option for you. Because it comes with an auto-cleaning feature. You just have to add some water and liquid soap as per requirement. Then blend it for cleaning. Rinse it well and you are ready to go.
This blender is designed in such a manner that you can use it anywhere whether from the mountain to the gym, kitchen, car, bus, at the beach, on vacations and wherever you go.
This blendjet is BPA-free for good health.
Disclosure
: Some of the links below are affiliate links. This means that, at zero cost to you, I will earn an affiliate commission if you click through the link and finalize a purchase.
Brand: BlendJet
Color: Pink
Blades: Stainless Steel
Dishwasher Safe: NO
Low Maintenance and easy cleanup
The Blendjet is designed in such a way that it has fewer parts to clean as compared to traditional blenders It reduces the requirement for drinking glass due to its drinking vessel. It results in less time spent on cleanup which matters the most.
Despite its compact size, the blendjet does not compromise on its performance. It can blend a wide variety of ingredients from fruits, and vegetables to ice, and frozen foods. This versatility gives us the chance to experiment with different recipes and flavours.
Customization as per taste
It empowers us to have control over the taste and texture of fruits or any ingredients that we are using. You can adjust the ratio to match your taste, diet, and nutrition.
Minimal Noise Disturbance
BlendJet's motor generates almost no noise. It allows you to blend without disturbing the surroundings. This is very useful for those who share space.
It has tons of colour variations
If you are very particular or want to buy color as per your interior then you are at the right place because blendjet has tons of vibrant colors and patterns with designs that perfectly match your style and interior.
This blendjet is BPA-free for good health. So, use it for baby food and daily shakes without any worry.
Innovation in the palm of your hand
The BlendJet's impact extends beyond its immediate functionality. It symbolizes a broader shift toward personalized wellness solutions that seamlessly integrate into our daily routines. With its innovative design and user-centred features, the BlendJet reflects the changing dynamics of how we prioritize health and convenience in our modern lives.
Designed for portability and convenience 
The blend jet is especially popular for its portability and convenience. Its dimensions are very compact which makes it very convenient for travel travel-friendly. It fits snugly into your bag of almost all sizes. Whether you are at work, in college, trip, or exploring outdoors, make sure that your daily dose of nutrition is never compromised.
Say goodbye to the limitations of power outlets. Its rechargeable battery empowers the user to use it multiple times without any worry by charging it once. It is a perfect match while travelling.
This blender has two modes. normal blending mode and pulse mode. In normal mode, you can blend your ingredients and in pulse mode, hard ingredients like seeds blend.
It is very easy and simple to use this blendjet blender. It is very user-friendly. Just fill the container with your preferred ingredients and close the lid. Then initiate the blending by pressing the button. Run it for 20 Seconds only and your blending is complete.
It has measuring labels on the cup.
Now no need to have an extra measuring cup while blending because its blending cup has an indicator or label on it. If you are health conscious then this is very helpful for you.
Its design makes it a gadget that requires minimum maintenance. Its blending cup is used to drink the smoothie, so cuts the requirement for cleaning the extra utensils. It saves your time as well as it is future-ready.
For the very first time after purchasing, make sure to clean it by adding water and a little liquid soap. then blend for a few seconds. rinse it very well.
Suppose you want to make a banana shake. Add milk and banana in small pieces. Close the lid properly and then press the button to start blending. After 20 seconds, your shake is ready to drink.
How to use the pulse mode?
To use the pulse mode, double press the button, and then a light will blink on the button. this light indicates that pulse mode is ready to use. Now press the button and release for 1 second and release, again press the button for one second and so on. After 5 seconds, pulse mode will exist automatically.
How to lock and Unlock the Blendjet while travelling?
To lock the blender while travelling to prevent accident blending, press and hold the button for 3 seconds. A light will blink on the button that indicates it is locked. To unlock the blendjet, press and hold the button for 3 seconds. It is super easy to operate it.
What is the meaning of a red flashing light?
A red flashing light means it requires charging or its battery is low.
How to deep clean the blendjet?
It is necessary to deep clean the blendjet after a few days of usage to prevent any kind of bacteria. To do so, remove the vessel by rotating the vessel anti-clockwise. Near the blade, remove the gasket very carefully using any fork. Wash the gasket and jar with distilled water. Reassemble everything and you are ready to use it again after deep cleaning.
It is recommended to use the fruits or vegetable pieces in small size.

Use pulse mode for hard ingredients like nuts or seeds.

Layer your fruits or vegetables properly. It means always add liquid at the bottom near the blades, then soft fruits, then hard ones in lastly add ice cubes.

Add liquid first like water, juice, yogurt etc.

Be mindful not to overfill the blender. Always keep some space for blending and the movement of the ingredients.

For a creamier and smoother texture, try to use frozen fruits or vegetables. It cuts the need for ice cubes also.

It is good to shake or tilt the blender to ensure that all the ingredients are reaching to the blades.

Avoid hot ingredients in the blendjet to prevent any kind of damage to the components of the blender.

Clean the jar and blender immediately after the usage and dry it to avoid any unhealthy drinks.
It is not dishwasher safe.

It has a limited capacity.

It is a little pricy.

It is not heatproof.

It depends on the charging.
Size: 9″ * 3″

Weight: .61 KG

Measurement Marking: 475 ml

1 hour charging: 15+ Blends

Water Resistant: Yes

Battery: 4000 mAh Rechargeable Battery

Motor: 5V Electric motor

Motor speed: Spin 275 Times/ Second

Blades: Stainless Steel

Durable: Yes
The BlendJet stands as a remarkable model of convenience and health-conscious innovation. With its compact design, rechargeable battery, and user-friendly operation, it has revolutionized the way we approach blending in our fast-paced lives. Whether you're a busy professional, a fitness enthusiast, or someone who values the ease of nutritious eating, the BlendJet offers a simple yet impactful solution.

Adopting minimalism through its low-maintenance design, the BlendJet streamlines the blending experience, from preparation to cleanup. Its versatility allows you to craft a various range of blends, tailoring each creation to your unique tastes and nutritional needs. And as we navigate a world where wellness and convenience intertwine, the BlendJet emerges as a pioneer, bridging the gap between making healthy choices and leading a dynamic lifestyle.

From enjoying refreshing smoothies on a morning commute to fueling post-workout recoveries with protein-packed shakes, the BlendJet seamlessly integrates health into your daily routine. It's more than just a blender

Read my other article here.
Frankly speaking, it is just perfect for everything. Blendjet is designed in such a way that you can make beverages, protein shakes, fruit shakes, creamy lattes, milkshakes, baby food, dips, sauces, and much more. Do not worry, you will get a new recipe every week if subscribe to the blendjet newsletter.
I am very particular about appliance colours. Can I get different colours in it?
If you are very particular or want to buy colour as per your interior then you are at the right place because blendjet has tons of vibrant colours and patterns with designs that perfectly match your style and interior.
Is it limited to soft blending only?
No, it is not. It has two functions. The first one is blending for smoothies, shakes and all. the second one is pulse mode. In the pulse mode, press the power button twice and blend the ingredients in the pulse. It is used as a food processor as well. You can blend or grind almonds in it.
How to measure the ingredients?
Use this blender worry-free because its cup has a measuring marking.
Can I carry it to the library or in the classroom?
Yes, You can carry and use it in the library if permitted. It can blend perfectly without any extra noise. It is so quiet that you can use it while the baby is sleeping and in the early morning while everyone is sleeping without disturbing their sleep time.
What if it gets ON accidentally while carrying it?
Carry it anywhere worry-free as it has a locking system.
How much time does it take to blend?
It is super fast as it takes 20 seconds only to blend.
Can this blendjet blend the dry seeds like flax or chia seeds?
Yes, It can! It is recommended to use the pulse mode for dry blending. 
Is the blender safe for hot items to be blended?
Yes,  but the liquid temperature must not exceed 48 degrees Celsius. It can cause damage to the jar as well as to the base. It may start leaking.