I wrote many articles before this one for kitchen appliances or gadgets. But this is my favorite because here, I am explaining my all-time favorite gadgets. I shortlisted 5 Cool Kitchen gadgets. I am sure you will definitely love these gadgets.
These are 5 Cool Kitchen gadgets:
Bamboo Cutting Board with drawers
The bamboo cutting board with drawers is an amazing kitchen gadget that is my all-time favorite because it is made up of bamboo and of course, environment-friendly is the key point that I love about it. As bamboo is a natural material so it is food-grade safe. If you cut more vegetables at one time then you just cut one vegetable and store it in a drawer and move to the next vegetable or fruit to cut. 
More Detail about a bamboo Cutting board
Bamboo Cutting Board with drawers is a durable material that has a longer life than plastic and wood. Bamboo cutting board or chopping board comes with anti-slip pads that make it easy to use and manageable. You can store the drawers in the refrigerator too. Bamboo is a lightweight material, so if you prefer a big-size cutting board then, this is the best option. Bamboo is BPA-free. 
More Detail About a Bamboo Cutting Board with drawers
It comes with 4 drawers. Bamboo wood is dense, So it is used in heavy-duty products. Bamboo cutting/chopping board is resistant to high temperatures and it is inexpensive. A bamboo cutting board is not boring to use, it comes in many beautiful designs. You can customize it as per your choice such as you can use the LOGO of your company, any design, and shape.
Advantages of a Bamboo Cutting Board with drawers
It is made up of 100% natural bamboo.

You can customize it for whatever shape you like for the cutting board. You can choose the size, Logo, and any design.

It is easy to organize because of the storage drawers.

Bamboo cutting boards are very beautiful.

The bamboo cutting boards are stain and water-resistant.

You can easily take care of bamboo cutting boards. 

It is environment friendly. No pesticides, no artificial irrigation, or chemicals are used in growing bamboo trees. So, very safe to use.

No need to worry about the deforestation of bamboo, Because it grows 3 feet in a single day.

It is affordable compared to other wood-cutting boards.

It is light in weight. For big boards, this is the best option to go.

It is dishwasher safe.
How to care a bamboo cutting board
step 1 Hand wash the board with normal water.
step 2 Apply soap to clean it.
step 3 Let it dry. You can use a cloth to absorb water.
step 4 Apply Food grade mineral oil on a bamboo cutting board. and let it sit for half an hour. So that it absorbs the oil and fills the holes if any to prevent germs.
*Important 3-4 Spoons of oil are enough for all sizes of cutting boards.
Benefits of using Oil on Bamboo cutting board
As you know,  wood absorbs water. Bamboo absorbs almost no water but there is a high chance that germs flourish on the board. So using oil, You can prevent the germs to grow on board. Board is not only used to cut vegetables and fruits but Meat and fish too. So blood and moisture can decrease the life of the board. That's the reason, oil is used to increase life and to protect it from germs, and bacteria.
A Dish drying rack is one of the mainly used gadgets that every kitchen must have for easy management of kitchen chores. It is used to keep wet utensils like glasses, bowls, and plates, and the water goes into the sink. It is a very useful gadget as it prevents kitchen counter-top from being wet and creating a mess.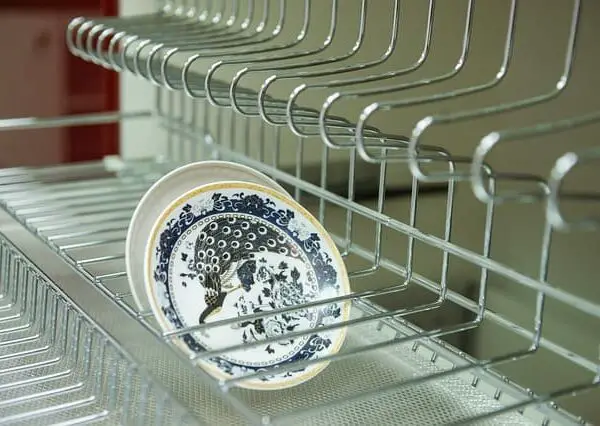 More Detail about a Dish Drying Rack
Dish Drying Rack has steel rods that prevent dishes to fall down. Many Dish Drying racks come with a feature of foldability and you can de-assemble it for easy cleaning. At the same time, it is portable and makes your kitchen easy to manage. You can mount it on the wall or keep it on the countertop.
How to Choose The Best Material For Dish Drying Rack
A Dish Drying Rack comes in many different materials such as Stainless steel, Plastic, Wood, and Bamboo. Stainless steel is the best to use as it is water-proof and has longer life. Stainless steel Racks are costly as compared to plastic and bamboo. But due to its durability, It is preferred by all.

Silicon and plastic dish drying racks are cost-effective, weather-friendly, rust-proof, and lightweight. These are equi[ped with draining systems. If cost is not your concern, Then go for stainless steel. Otherwise plastic is good to go. Wooden Racks are used for crockery not for wet utensils as wood absorbs water.
A Spiral Vegetable slicer is also known as Spiralizer.  It is used to cut vegetables and fruits in a spiral shape as you see pasta in spiral form. You can cut endless fruits and vegetables using this Spiral Vegetable Slicer such as zucchinis, Carrots, Raddish, Beetroots, potatoes, and Cucumbers. This is one of the best alternatives for pasta. this gadget is not expensive. 
More Detail about a Spiral Vegetable Slicer
You can make fresh and healthy pasta like vegetables any time. The most exciting thing is that Spiral Vegetable Slicer is kids friendly. It is just like a very big pencil sharpener. It is the easiest tool and fastest too.
It has 3 blades. A small blade is used for ribbons and a large blade is used for making a spiral.
Steps to use Spiral Vegetable Slicer
Step 1 Wash the vegetables and peel them.
Step 2 Choose the blade
Step 3 You are ready to spiralize. Insert the vegetable and finish with a spiral.

Advantages of a Spiral Vegetable Slicer
It is a healthy option as it has few calories and carbs but has more fiber.

You can use it for everyone.

Ordering Spiral vegetables from hotels is cost you more than making them at home.

As Spirals are thin, So they take less time to cook compared to pasta.

Making spirals of vegetables is a fun time for kids.

It helps in weight loss as you eat more fiber.

Food looks visually appealing, So kids definitely love it and eat it for sure.
Whenever it comes to a kid's favorite dish, Whatever they like, corn is the one that is always included, whether it is soup, salad, and pizza. But if you plan to make something for kids or family at home using corn, it is difficult and time-consuming to take out corn kernels. So Corn Strippers is the solution. Corn Strippers is a small gadget that peels off the kernels in a few minutes. Approximately, one corn ear has 450-1500 kernels. That way, It is painful for the hands too, to peel off kernels. 
Key Consideration for buying a Corn strippers
As you know, The cob size is every time different. Some strippers come in a fixed size. Always choose one, that has versatility.

Mostly Corn Strippers has a depth of about 0.25″ to 0.5″. More depth means more big kernel peels. So, Always check for the depth of the corn Stripper.

Efficiency is one of the key points that means how many rounds it takes to peel off the kernels, Whether in one round or multiple times.

Corn Strippers's blade must be rust-proof. Warranty defines the quality of any product. So more warranty means more reliable and durable it is.
Advantages of a Spiral Vegetable Slicer
Corn Strippers can peel corn safely and very less time and It is a big help for those who are not good at using a knife.

It required low maintenance.
Its name implies that it is a gadget that is used to press the garlic.  Garlic Press Rocket Set tool is like a blessing for those, Who doesn't like the smell of raw/ uncooked garlic. This is an affordable gadget that is easy to use and easy to clean. Well, It is a very handy tool that makes your daily chopping easy for garlic. You can chop many other things too like ginger, Chillies, and lemongrass.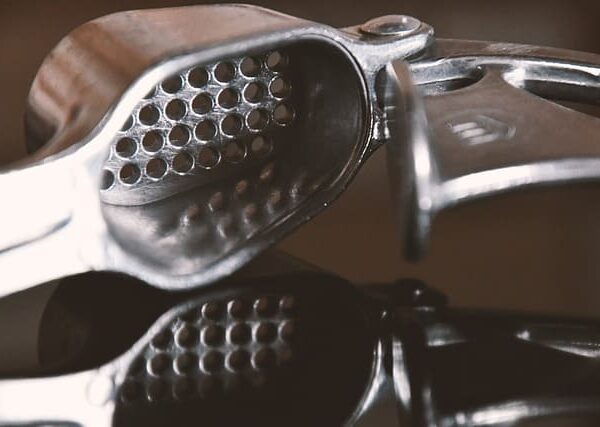 Key Consideration before you buy a Garlic Press Rocket set
It is important to know, How frequently you are going to use it. If the answer is often, then you should invest in a steel garlic press that is sturdy and has a long life. If the answer is occasionally, then you can buy a plastic garlic press.

Understand how much quantity you need. If the answer is much more than a garlic press that has a big chamber.

How easy to clean it, is very important.

Check for durability and efficiency.

Some garlic presses come with a silicon peeler too. It helps in peeling it too.
Advantages of a Garlic Press Rocket set
It must to dishwasher-safe.

It comes in a combo that has a peeler and garlic press both.

It is easy to use.
Dis-Advantages of a Garlic Press Rocket set
In my personal experience. sometimes garlic goes fly when proper attention is not given.

A little garlic is left behind in the garlic press. That is somewhat wastage oo.

Some garlic presses are heavy to hold.
Garlic Press is good for those who don't like the smell of raw garlic on their hands, spiral vegetable slicer is a healthy alternative for pasta. Corn stripper saves your time by peeling corn in less time. I mention how to choose the best gadget, you must go and read.
 You can Visit my Other articles on Kitchen Appliances here.
Thank you so much for trusting me. I really appreciate it.