The most gentle way to cook rice is by using a bamboo steamer. It is made up of environmentally friendly material so safe to use and healthy too. It cooks the food in such a way that it does not lose any nutrients, shape, or flavor. You need not stir the rice as steam circulates all between the rice and it cooks the rice so well without stickiness.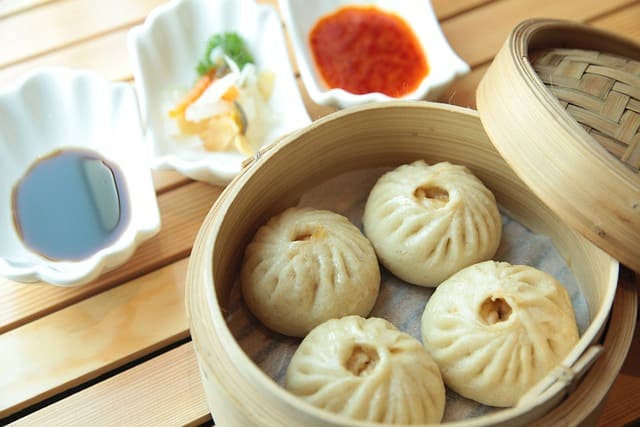 It has 3 baskets. The first one is used in the bottom, the second one is used to place the rice, and the third one is used as a lid on top of the bottom basket. This basket has many tiny holes that allow it to steam to go up and cook the rice with the heat of steam. 
Different sizes of Bamboo steamer
There is a wide variety of sizes of Bamboo steamers. Its diameter starts from 4 inches to 12 inches. Its size depends on how much rice or food you want to use in it for cooking.
It is very important to know how to use the bamboo rice steamer. I am explaining it in steps. 
Step 1( Prepare Raw Rice)
First of all, Wash the rice very nicely and try to remove the starch. this step decreases the stickiness It is good to soak rice before cooking at least for 8-10 hours.
Step 2(Place the Rice in Steamer)
The second step is to place the rice in the bamboo steamer basket. make sure to use a moist steaming cloth or use vegetable leaves like leaves of banana or cabbage to make sure that rice won't fall. Spread the rice nicely and cover it with vegetable leaves and close the lid. You can use any edible oil to make sure that rice won't stick.
Step 3(Add water and Close the lid)
Fill the water in the pot about 2-3 inches. Start the stove and allow it to boil the water. Reduce the flame when the water starts boiling. Place the bamboo steamer into the pot. make sure that the bamboo steamer does not touch the water.
Step 4(Allow the food to be cooked)
Allow the steamer to cook the rice for 30-35 minutes and keep checking the water in the pot and add as per requirement. Check the rice after 30 minutes and recook if you feel it.
Step 5(Here's rice are ready)
Take out the steamer from the pot and place the rice into a bowl and here you learn how to use a bamboo rice steamer.
The average price of this bamboo rice steamer is $20 to $ 40 and in INR its price starts from 349 to up.

The bamboo rice steamer not only cooks the rice but makes it delicious and healthy rice. It is not only used for rice but used for vegetables and different steaming dishes. It is capable of cooking multiple dishes in one batch of cooking. It requires less cleanup and it saves the money on dish bar. It is easy to maintain.
It is a healthy option because it is made up of easily decomposable and environmentally friendly material. The bamboo has no side effects and its price is also not much as other electric steamers. If you want to change your lifestyle, then this is one of the add-ons. Instead of draining out the water using other cooking methods and draining out the nutrient too, it is better to opt for a bamboo rice steamer.
The bamboo rice steamer is not only used for rice to cook but also used for many more dishes like cooking vegetables and many more dishes. It has 2 tiers that allow you to cook multiple dishes in one batch of cooking. This will save your energy and time too.
The bamboo rice steamer is easy to use. I mention all the steps above in the section.
It is easy to clean as it does not require a dish bar or detergent for cleaning. You need only warm or hot water and use it to clean the steamer. Clean it with a dry and soft cloth so that excess moisture will remove and it stays away from bacteria. You can use any oil to polish it. Use a very mild oil.
Made up of superior quality
A bamboo steamer is made up of tough material. Once you buy it, you do not need to buy one more because its life is very long. It stays longer if you maintain it properly otherwise it starts smelling. So cleanliness is important.
Many steamers come with a trademark that is a sign of quality assurance. these have a good price that can be afforded by almost all.
Buying steel or any other metal steamer requires putting a huge amount in it and still are not environmentally friendly and healthy. Instead of this, you can buy a bamboo rice steamer which is the best alternative for cooking. You can buy it for USD 20-25$. These are made up of 100% natural bamboo.
Bamboo is one of the fastest-growing plants ever in the whole world.  It transforms 30% more CO2 for us into oxygen. Its products are durable and do not break for 100 years. You can reduce the usage of electric energy. It also results in less plastic waste as it is easy to recycle.
Bamboo rice steamer is capable of cooking meals that are healthy but look good too. You can use its basket to serve the rice or food directly into the plates. You will surely get a "wow" for this.
If you hate or do not like soggy food then this is another reason to use a bamboo rice steamer. Bamboo absorbs the excessive moisture in the food and makes sure that food doesn't get sticky.
The bamboo rice steamer is very useful as you can use it for multiple tasks. You can use it to cook rice and steamed vegetables. Many steamers come with a two-tier placement of food, which means you can cook double food in one batch. It cooks food very healthy that tastes delicious and starchless.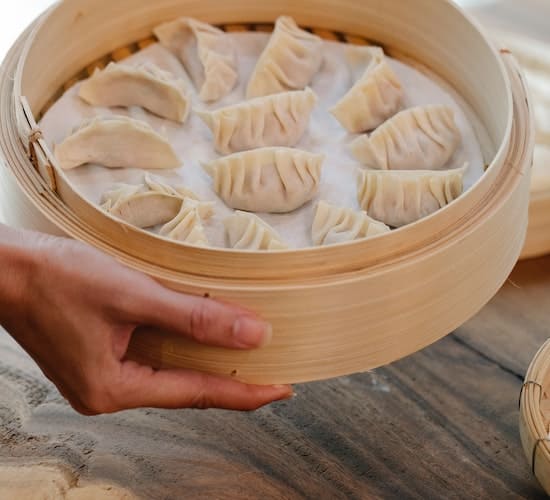 Following are the some cons of it.
Absorb the odor of the last meal prepared
Imagine you have prepared a special meal for guests and when you are serving, it smelling meat or other dishes odor that you make before this meal. Isn't it embarrassing? The bamboo rice steamer absorbs the odor of food and it may destroy the smell or flavor of many dishes.
The bamboo rice steamer is not easy to repair if it's one strap is broken, all others also start coming out. The only way is to buy a new one.
Most local market steamers made up of bamboo do not have a warranty. If your steamer gets damaged then you have to buy a new one.
It takes much time to cook the food in the steamer. It works very slowly. You need to soak the rice overnight before you put it into the steamer. Then only it takes less time.
Bamboo steamer V/S Metal steamer
The bamboo rice steamer absorbs the moisture in the food and allows the rice to not stick together and this is not available in the metal steamer because metal can't absorb the moisture. You can do one thing which is, to use properly measured water in the rice so that there is no problem left with moisture and stickiness.
Metal steamer gets hotter than a bamboo steamer. many dishes require more heat for cooking, so metal is preferred and bamboo cooks slowly. Many times metal gets hotter from the bottom and food may become more crispy from the bottom. It may be pros or cons. It is totally up to you.
As we know that bamboo is made up of bamboo which is the fastest-growing plant in the world and it does not affect diversity. So bamboo steamer is preferred by people. But this is not mean that metal steamer is not used. Metal is also a recyclable thing. But try to avoid plastic because it has many bad effects on our health. Many companies claim that plastic is BPA-free, But who knows when new BPA comes. So stay alert and use eco-friendly material.
The bamboo steamer has less cost as compared to the metal one. But if we compare the life of a steamer, then metal one has long and requires a one-time investment only. The Bamboo needs to be replaced after a few years.
When we look for longer life steamer, always metal one comes first and bamboo one has less life. You need to replace the bamboo steamer more frequently as compared to the metal one.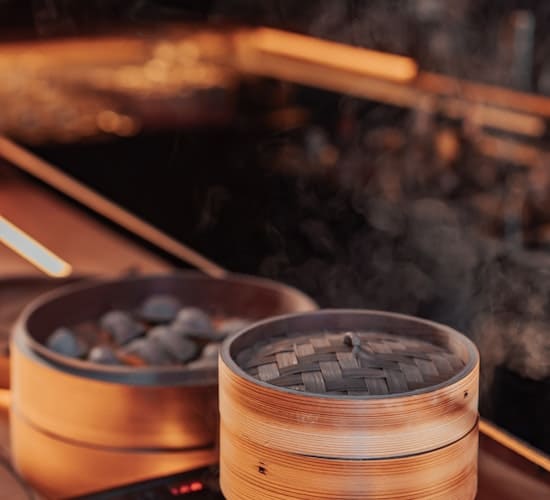 There are many ways by which we can clean the bamboo steamer. Here, I am explaining the top 3 ways. These are
Using lemon for cleaning bamboo products is very useful and safe to use. As it has natural disinfectant, you can do it without any worry. Simply cut a lemon and rub it over the steamer nicely. Discard the leftover lemon. Let it set for 2-4 minutes and then rinse it and use a clean cloth or towel to absorb the extra moisture. Never keep your bamboo product in the direct sun. It will damage bamboo.
The tea bag is one of the most used methods after lemon. Simply dip the tea bag into a cup of hot water and allow it to set. Then use that tea bag to clean the basket of bamboo. It will remove the sticky rice and bacteria very well.
Clean with the nylon brush
When your bamboo baskets are too sticky to be cleaned with lemon and tea bags, this method comes to the rescue. As we know that bamboo is very delicate so try to use a soft nylon brush. First of all steam the basket and then use soapy water and a nylon brush to rub it. Slowly scrub it and rinse it with water to remove the soap water.
How to remove odor from bamboo steamer?
There are many ways by which we can clean the bamboo steamer. Some few are
You can remove the unpleasant odor of the basket using vinegar. Simply take the ratio of water to the vinegar 2:1. Then let the basket absorb the vinegar. After that rinse it with clean water.
Another method is to use baking soda. Sprinkle the baking soda on the basket and let the soda sit for a few hours. After that rinse it with hot water.
How to Care for bamboo steamer?
We buy bamboo products by investing hard-earned money. It is important to care properly for its longer life. Otherwise, you will end up buying a new one and reinvesting. So, look at the following steps, I am explaining here.
Coat it with oil after every washing
Whenever you wash your steamer, It is important to dry it with a towel and then use oil to polish it all over the areas. It increases the life of the steamer. You can use any edible oil or there are many special oils in the market. You can buy those also. I am using olive oil. It is my very personal preference. You can go with any oil you like.
Soaking a bamboo at least for half an hour is good for it. Because it prevents the bamboo from burning. Many bamboos are not suitable for soaking. You must read the manual first. Many manufacturers claim that if you soak it in the water, it is not covered under warranty. So do it carefully after reading the manual.
Never place the food directly on the bamboo
As we know that rice or any food stick to the bamboo if placed directly. So, try to use parchment paper or you can use cabbage leaves. It will make your cleaning easy.
Never place a steamer in a wet or moist place. Try to store it in a dry place. Otherwise, bacteria may flourish.
After every kind of cleaning, The common step is to let it to be dry in the air. It will make sure that all the moisture eliminate and there are fewer chances of bacteria.
Do not place a heavy object over it
Bamboo products are very delicate. So, Placing heavy objects over it may break your steamer. Try to avoid it.
The bamboo rice steamer is made up of bamboo which is a natural material. So it is a healthy option. Bamboo is the world's fastest-growing plant, so it is Eco-friendly too. The rice cooked in it are non-sticky because it absorbs excessive moisture and lets the rice be non-sticky. For its longer life, you must care it properly. I discuss all the major points regarding how to use it in steps, maintenance, and how to remove the odor. You can check those all too.
You can find my other articles here.