Pressure cookers are cooking appliances that are used for many decades for cooking. It prepares food quickly with help of steam. As we know heat is the greatest heat conductor when compared with dry air. Steam reaches its maximum temperature and thus cooks the food faster. This is the reason it is mostly used in every house and are faster and more efficient than other methods.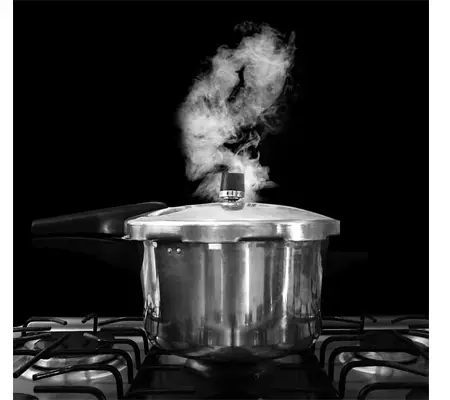 Working on the Pressure cooker
To understand the working of the rice cooker, you need to understand the science used in it to convert water into steam. Let's follow the following steps
Put the rice into it with water.

Now close the lid of this appliance.

When the temperature reaches

100°C,

The water starts boiling.

The temperature inside does not increase until the water is fully converted into steam. So water and steam both have the same temperature. This is the reason that pressure cooks the dish slowly.

It increases the surrounding temperature and then manages the overall temperature. Then convert the water into steam. It traps the steam inside. This trapped steam then cooks the food faster.
Advantages of Pressure cooker
You need a solid reason to use it to cook rice over a rice cooker. Let's discuss the benefits of this appliance and understand it.
It cooks food faster than other methods of cooking. It traps the steam and utilizes the steam then cooks faster. It has a perfect lid that perfectly traps the steam. The steam surrounds the rice or any other dish from all sides, ensuring it cooks faster.
More nutrients or Healthy
Whenever it comes to preserving nutrients and flavor, this appliance comes in the first place. It seals the moisture and makes sure to retain the nutrients and flavor. You need not to seasoning the recipes because they already preserve the nutrients.
When compared with other methods of cooking, it is the safest one. Its lid is very secure.
The pressure cooker cooks the food in a shorter time compared to other methods. So it conserves energy. It is capable of cooking food in less time than require prolonged other methods. It saves your time with energy. You can utilize the time for other productive tasks.
Cooking in the it is versatile because you can cook all kinds of recipes including chickpeas, brown rice, and meat in very less time. You can cook a vegetable, make soup, eggs, and all grains.
Disadvantages of Pressure Cooker
We read in the above section that it has many advantages. Do you know a pressure cooker is not capable of cooking all the recipes? There are several problems that you can face while using it. These are:
It is not easy to use the pressure cooker for perfect recipes. A rice cooker has a tender and perfect rice, but a it needs experience for perfection. The reason behind it is that the pressure cooker has less evaporation of water as compared to the rice cooker. So more water is left in the rice or any other dish. Due to this reason, you need to pay, more attention while cooking in it.
Can't check the food in between
It locks the pressure inside the pot. This means that to check the food or open the lid, you need to release the pressure or steam. Otherwise, you can't check the food or can't stir in between.
While cooking in this appliance, it is very normal to overcook the food in a few minutes only. If you are using it for the first time, then use a cookbook until you get used to it and get all the tricks. Its temperature rises to 121°C which may result in overcooking.
Can't leave Pressure Cooker unattended
The rice cooker is specially designed for the hands-free cooking of rice. But it requires regular monitoring. Sometimes, there is a risk of steam release. It is advised that never leave home while it is on.
How to maintain Pressure Cooker
It needs to be maintained properly otherwise it may be risky to use. The following is the way to maintain it and increase the life of the Pressure Cooker.
Give your cooker once in a year inspection. Check its gasket and knobs, handles, and loosen parts. Replace the rubber if necessary.

Clean its vents and holes with a brush. Disable all the parts and then clean them with hot soapy water. After this use clean water and then clean it with a towel.
 

It is important to clean your cooker daily because if you leave food inside overnight then it will be hard to clean.

For tough stains, use lemon and vinegar solution.

After every usage, clean it with hot soapy water and then wash it very well with clean water and clean it with a dry cloth.
Hard anodized Pressure Cooker
After every use, clean it with soapy water and wash it with clean water then dry it with a clean towel.

Clean the regulator or pressure cooker regularly. Soak the regulator in hot water and then clean it very well.
Polished Aluminum Pressure cooker
You can maintain the outer shine of the cooker by using soapy water and then clean it with clean water then use a towel to dry it.

If you are worried about its internal color changing after usage, then it is very normal. Do not worry about this. It is very normal.
The gasket is a very important part of this appliance that is detachable. It is responsible to prevent the air to come in or out while working.

After every use, make sure to clean it very well.

It is recommended to replace the gasket every 12 months as it is responsible for the safety of it.
How to clean the pressure cooker?
Clean it from the bottom side with a scrubber and then wash.

Use a sponge or scrubber with dish soap and scrub it from the inside. If the Food is hard and sticky then soak it for 15 minutes.

Then clean the gasket and all other removable parts with soapy water.

To remove the hard food inside the cooker, add water and soap to the cooker then heat it. It will loosen the hard food.

Use a clean towel and then dry all the parts.
The size of this appliance is very important when buying a new one. If you buy a smaller one then you have to cook multiple times or for a big cooker, fuel, and energy will waste. It will increase the burden on your pocket. It also increases cleaning time. So buy wisely. If you are about to buy this for baby food, the 1.5 KG capacity cooker is good. For a small family, you can buy 3KG and for a big family, a 5 to 7.5 Capacity cooker is fine. So, think in advance about the size.
There are many types of pressure cookers available in the market. These are hard anodized, stainless steel, and aluminum. Every type has its benefits and drawbacks.
Heat conductor

Light in weight

Healthy, do not react to acidic

Expensive

Metal steel wool won't be used on it.
Looks shiny and stays as new for many years.

Durable

Little heavier than hard anodized

Not a good conductor of heat.

Healthy and not react to acidic.

Expensive

Metal steel wool can be used to clean it.
Excellent in heat conduction

shorter life

Less cost

Unhealthy

React to acidic

Metal scrub can be used.
You do not like to purchase a any appliance even it is cooker every year or two. So it is good to invest in a good one only.
Warranty is nothing but indicating its quality in numbers. The more warranty it has, the marrier its life.
Many people buy this appliance at a low price but after some time it starts giving problems and then the brand does not respond or solve the problem. At that time we get harassed and frustrated. So, always check for after-sale service.
Many people love to cook on the induction stove. So, before buying make sure that it is induction friendly or not. It is written on the bottom side of the cooker. You can see "with induction bottom" written there.
Nowadays, everyone is working and nobody has time to clean the utensils. So it is good to see whether it is dishwasher safe or not. It will save your washing time. Aluminum and stainless steel are best for dishwashers.
Have inner lid or outer lid
The pressure cooker comes in two styles. The first one is the inner lid and the second one is the outer lid. The inner lid cooker lid close inside the cooker and the outer lid cover the upper area of the cooker and close outside. It is good to buy an inner lid cooker because these are capable of handling more pressure.
Popular Brands for Pressure cooker
A pressure cooker is one of the essential and most used appliances used in the kitchen. There is no house, approximately, that does not use this appliance. It is safe and faster in cooking. It comes in many variations like stainless steel, aluminum, or induction based. It is important to maintain it properly for its life and your safety. It is good to understand your requirements before you buy it. I explain the tips in the above section. If you haven't read that please go there and read that.
Thanks for trusting me.
You can read my other articles here.