Do you like iron skillets but cleaning an iron skillet or any other iron utensil is not on your liking list because of tough cleaning and stains? or may be you do not know How to clean a cast iron skillet?
No worries!! I'll teach you how to easily clean the iron skillet in very easy-to-follow steps. As we know, iron cast utensils are specially designed to handle heavy-duty cooking. Iron utensils cooking is very healthy when compared with aluminum ones. But after cooking, it is a bit hard to clean and maintain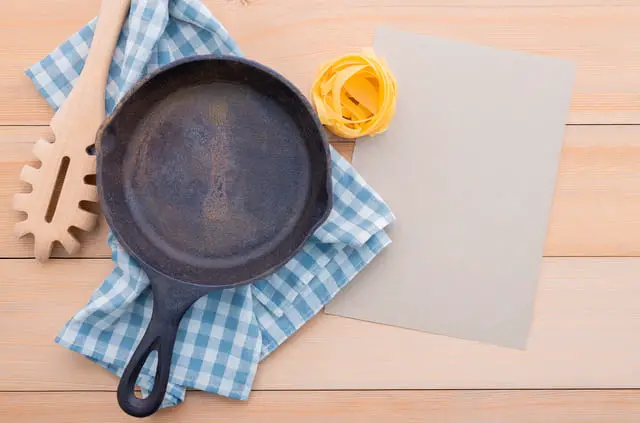 How long it will take to clean?
Before getting start How to clean a cast iron skillet, it is important to know how long it takes to clean? Apart from daily cleaning, if you want to deep clean it, then it will take around 1-2 hours. It involves removing the hard and stuck-on buildup layers, rust removing, and removing stains too.
One thing to notice very carefully is that you cannot clean your cast iron skillet in the dishwasher because it causes rust. The dishwasher has a drastic temperature change in the water hot and cold. This will destroy the skillet and even causes cracks. Besides this, you can use a mild soap that would not destroy it if seasoned with oil.
Do you need some items to be ready before you start cleaning iron utensils and know How to clean a cast iron skillet? Then the answer is Yes.
Heavy-duty cast iron scrubber

Paper towel

Oil

Kosher salt
#1 Method for daily cleaning
Step 1: Wash with plain water
 The very first thing to do in How to clean a cast iron skillet is, wash your iron cast utensil with plain water or you can use a small amount of soap. You can also use the pan scraper for stuck-on food. If the food stuck and is very stubborn, then try to add some water and an iron cast utensil and warn it on a simmer gas flame for 2-4 minutes. After this, you can use the scraper.
The next step in How to clean a cast iron skillet is to dry the utensil very nicely with a paper towel or lint-free cloth. Sometimes, due to seasoning or masala, you may experience stains on the towel or tissue paper. It is totally fine.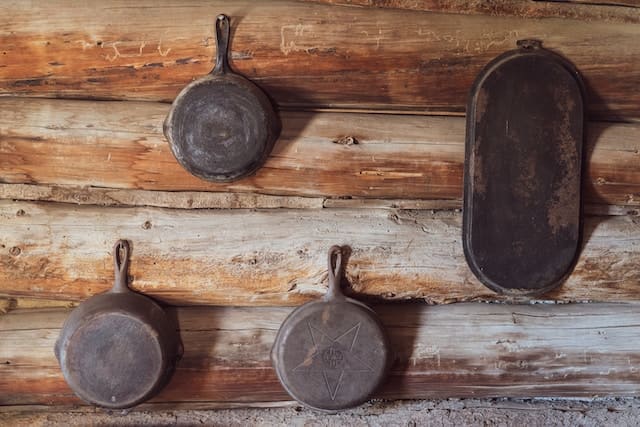 On the surface of the utensil, use a light seasoning spray or cooking oil and rub it. leave it for 1 minute. Then use a paper towel and wipe the oil from the surface of the utensil until no oil residue is left.
Step 1: Clean while the skillet is hot
 You can save a lot of time if you clean the iron skillet while it is hot. If you think, I want to enjoy hot food, but after that, you have to do hard work to clean the utensil and waste a lot of time. It is because stuck-on food is very hard to clean.
Step 2: Use soap and hot water
Stuck-on food removes with hot water as it loosens the food. Now  its time to take an iron-cast scrubber and start rubbing the iron utensil. There is a lot of confusion among people that whether to use the soap or not. Some say it is ok to use mild soap and others say not to use it. It completely depends on your utensil and read its manual before using soap on your utensil. But it is fine to use a small amount of soap.
Step 3: Use salt and a dry towel
Salt can help the stuck-on food to get off the surface. rub it with a towel which must be d
As we know, baking soda is very effective in removing the toughest stains and hard stuck-on food from utensils. Follow the following steps to clean the iron caste skillet:
Let the skillet cool down after cooking.

Add some baking soda to the skillet and with the help of a scrubber or brush, scrub the skillet gently.

Clean the skillet with water and dry it with a clean towel.

To protect it from rust, apply some vegetable oil and season it.
How to Remove Rust from the iron skillet?
Sometimes, you may be in hurry and forget to dry the utensil and when you come back and see your iron skillet, it is loaded with rust. 
The best and easiest way is to take a scotch bright scrubber and use its rough side to rub the rust. It will work and add some drops of water for good removal of rust.

 You may add some drops of dish soap to clean it.

Wash the skillet with plain water and dry it with the help of a towel or tissue paper.

Re-seasoned it to prevent rust.
If your Iron-cast skillet has more rust spots than usual  and normal cleaning is not enough to remove those spots, then rust remover works very well. The Lodge eraser is one of the best I have tried. It is made from plastic and silicon. It does not require soaking in the water before usage. 
Take a rust eraser and gently rub the utensil. Do not give pressure to clean the skillet. It will create cracks.

Repeat step 1 until the rust is removed completely.

 Wash it thoroughly and dry it. 

After that, seasoned it with oil. 
What if the skillet is fully covered with rust?
Think of the situation, when you forgot your iron skillet in the sink overnight. In the morning, it is covered with a lot of rust that is thick and strong enough. In this situation you can try the following methods:
The very first way is to scrub the pan or skillet with the iron-cast scrubber. You can use dish soap if required.
If the iron cat scrubber is not enough to remove the tough rust, then use the solution of vinegar and water. It will surely work.
Identify whether the rust is inside the pan only or outside also and follow as per your observation.

If the skillet is rusty from the inside only, then fill the skillet with water and vinegar solution and leave it for an hour and then check whether it is working or not. A sound of fizzing means that it is working. You can try to rub the surface of the skillet to check it.

If rust is removed, then rub and gently clean it. otherwise, leave it in the solution for a few hours more. It is advised not to leave the solution in the pan for more than 24 hours. As it creates cracks in the pan.

If the skillet rust from both sides outside and inside then soak it in the solution of vinegar and water and repeat the above steps.

Wash, dry, and reseason it.
Store the Cast-Iron skillet
It is always advised to store the iron cast skillet by hanging it. another way is to stack it with paper towels in between the pan.
Keep your skillet away from moisture 

The iron-cast skillet or any other iron utensil get rusty only because of moisture. So try to keep it away from moisture. You can place these utensils 

away from a sink, or gas stove

 when not in use.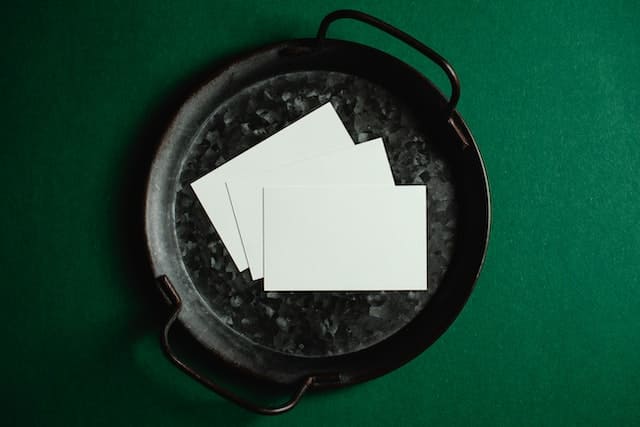 I summarize How to clean a cast iron skillet here by saying that the iron caste skillet is very crucial to sure for its longer life. life. You can use many different methods to clean the skillet discussed in this article in the above section. It includes the basic cleaning method, salt method, baking soda method, and vinegar method. All the methods include letting the skillet to little cool down and then removing the extra food from the skillet using water. Then rub, dry, and apply oil. Additionally, you can use vinegar, baking soda, or dish soap for the stains or stuck-on food. Seasoning with oil is a must to do step in all methods.
You can read my other article here.