O general is a Japanese company which manufactures Air conditioners. It starts manufacturing in India in 1971. O general is one of the leading companies that manufacture air conditioners in India. It deals in the split type of AC, Airstage, and Window AC.
O general ACs are very popular. It is made by a Japanese company These are popular due to their performance and features. This company does not use heating elements as others are using. It makes you feel free from the risk of low oxygen. It gives very good cooling and stays for more than 10 years easily with proper care and maintenance. These are very reliable. It has a moisture-removing feature that makes sure that there is no humidity in the air and the air is left dry.  In this article, I am going to explain "O General 1.5  Ton 3 star window AC".
O General 1.5 Ton 3 Star Window AC( AXGT18FHTA)
This ac is very popular due to its dam good cooling. Its capacity is 1.5 Ton. Its rating is 3 STAR. It has an aluminum condenser coil. Its cooling capacity is 5300W. Its compressor is Hyper tropical rotary. It covers the warranty for 1 year on the product and 4 years for the compressor. It comes with an auto restart feature. Its power requirement is 1780 watts. It is capable of controlling airflow automatically. It removes moisture at 2 Ltr/hr. You can operate it in powerful mode as well as in quiet operation. You will get a wireless remote control. It has sleep mode too. You can set a timer for it. It produces less noise.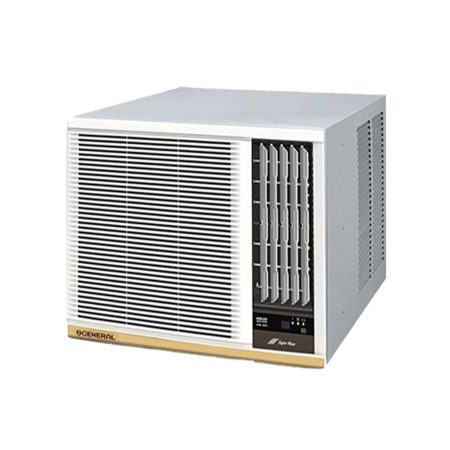 The rear unit of an air conditioner is covered for protection. So it saves the product from damage and outsider factors.
Uses Super Wave Technology
You will say thanks to super wave technology for its too good cooling. It is capable of cooling every corner of the room. You will feel cool even if you are at the last location or point in the room.
Whenever we heard about an Air conditioner, the first thing that comes to our mind is that it is used for cooling. Nowadays, This terminology is changed. Most of the companies are not dealing in C re manufacturing AC that is working in all weather even in rain. You can use an Air conditioner for hot and cold. In summer it gives you cool air and in winter, you can use it for hot air.
 It has a human sensor which means it starts working when someone is present in the room. It also senses how many persons are there in the room and accordingly set the temperature of the room. When the number of people decreases in the room, it automatically senses and adjusts the temperature to work at lower energy to save money.
It uses V-PAM modern technology based on an inverter. You will find both kinds of Air conditioners in it- inverter and non-inverter. Most people prefer inverter-based AC because it saves your monthly electricity bill. It is short for vector-controlled pulse amplitude inflection. It is designed to decrease the loss of electricity and also improve the speed of the compressor. That results in better cooling.
It is easy to maintain. It is capable of eliminating the bad smell. It eliminates dust and dirt too. 
Its Filter are very advanced. You can remove the filter with ease and clean it. 
Restart and Rest Function
It comes with an auto restart function and rests too. Power cuts are very common in India whether it is in urban or rural areas. If you set some settings for AC and then the power goes off, It stores the previous or last settings and restarts from those settings.
O General ACs are very versatile and have good stamina. It supplies all kinds of ACs. It deals in the window, split, and centralized ACs whether deductible, cassette, or VRF type.

Its strength is fantastic for cooling even in very hot weather.

It has a long life.

O general ACs are very robust for quality and performance.

It do not use heating elements.
O General ACs are imported to India from Dubai, So their cost is increased. Its network is not strong in India.

Its setup or installation charges are more.

Its price is more.

Not many shops are selling this brand due to the high price.
| Features | O General |
| --- | --- |
| Model | AXGT18FHTA |
| Price in India | 35,999 |
| Type | Window |
| Capacity | 1.5 Ton |
| Star Ratinge | 3 STAR |
| Colours | White |
| Cooling Capacity | 5300 W |
| Compressor | Hyper tropical Rotary |
| Condenser Coil | Aluminium |
| Display? | Yes |
| Ar Circulation | 554 CFM |
| Auto Restart | Yes |
| Other Features | Mildew Resistant Filter, Quiet Operation, Fresh Air Intake |
| Warranty | 1 Year warranty on product and 4-5 years on compressor. |
| Auto Mode | Yes |
| Timer | Yes |
| Dry Mode | Yes |
| Air Swing | Yes |
| Power Consumption | 1780 Watts |
O General Ac is one of the best in the market. It has a high quality that gives you greater cooling within a few minutes. It is a premium AC. If your pocket allows you, this one will surely make you happy. It will work even in the worst summertime.
Thank you so much for reading my article. 
You can read my other article here.