As winter comes, It is very difficult for everyone to take bath or wash hands with cool water. Every house needs a water geyser. Gone are the days when people prefer to hot water on wooden chullah. We are living in a time where every minute has a lot of value. So electric, gas, solar, and many more types of geysers are there in the market.  Lets see What is a Geyser?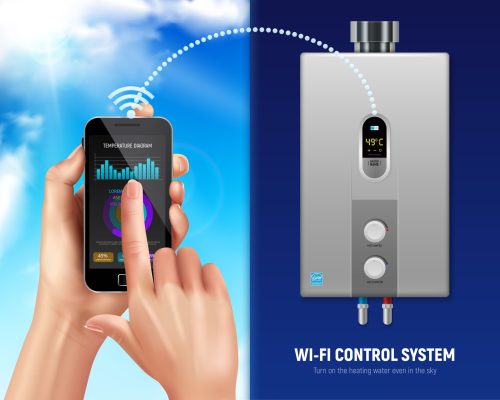 An electric geyser uses electricity as an energy source to heat the water above room temperature. The geysers are used domestically in bathing, cleaning, cooking, and many more. Water heaters are also known as water heat exchangers, geysers, calorifiers, and many more names.
A geyser has mainly three parts. Heating elements, thermostat, and storage tank. The heating element is a very important part that can be damaged due to hard water. Many geysers nowadays come in coated with glass are effective against hard water and increase the life of the geyser. 
The storage tank holds the hot water. It needs to be strong. It comes in two types of material: stainless steel and vitreous enamel. Stainless steel storage tanks are obsolete nowadays. Vitreous enamel is new and advanced and coated with polymers that can't be damaged by hard water. The thermostat decides when to start or stop the heating.
For example, You ON the geyser, The water temperature is 13 degrees Celcius. Then the thermostat detects it and the heating element starts heating the water. When the water temperature reaches 60 degrees Celcius, the thermostat indicates the heating element to stop heating more and cut it out. If you forgot to switch OFF the geyser, It starts heating after a few minutes to maintain the temperature of the water to 60 degrees Celcius.
Points to consider before you buy a geyser
Check for your requirement for hot water. After that buy a geyser for that capacity.

Always pay attention to the quality of the water tank and heating element.

If you have hard water in your area then choose a geyser with corrosion resistance.

Safety is our priority. So ask for security measures to be taken like a valve to control the pressure of hot water etc.

It must be energy efficient.

More the hot water you use, the more the electricity bill.

Stand-by loss is very crucial to decide a geyser. As more standby time means more electricity consumption. It must hold water at the desired temperature for long hours.

If you live in high rise building, It must be rated high pressure and must be more than 6 bars.

It must have a valve to control pressure.

Warranty is very necessary to check.

After-service is also important.

Parts availability must be checked before buying any geyser. In case your geyser gets out of service, whether its parts easily available or not?

Always go for a good brand.

Check for the wall space where you want to hang it. Whether it fits or not?

It is good if it has a digital display for temperature.

many models of geysers come today with remote control or app control.

It must be a BEE star rating.

It must have an ISI mark.
There are many types of geysers. These are
Instant Geysers
       A. Electric instant geyser
       B. Gas instatnt geyser
2. Storage geysers
3. Solar Geyser
4. Rod water geyser
As its name implies that a geyser provides you with hot water instantly when you ON it and it uses electricity to hot the water as the main energy source. An instant electric geyser is suitable for a small bathroom and kitchens as it is compact and takes up very less space. It is very popularly used in Indian kitchens and bathrooms. It has a sensor that senses when water flows from a pipe then the geyser is start working and the heating element hot the water. The average capacity of this type of geyser is 10 litter. These types of geysers are more expensive but have a long life as it does not have a storage tank. 
An instant electric geyser requires more power to hot the water. It supplies water slowly because it hots the water when required. It requires wiring that can handle 35 KW. As you all know electricity is produced by coal and it is not suitable for our environment, So better to use other types of geysers like solar or LPG. It has low maintenance cost and it can't provide hot water to multiple taps at once. It increases the pressure on the power grid so increases the load.
An instant gas geyser uses LPG(Liquid Petroleum Gas) or PNG (Piped Natural Gas) to hot the water. These kind of geysers are easily available in the market and has a low price. It required no electricity. It depends on the gas. If you are using a gas instant geyser, you need to have little knowledge about this. It has three pipes. Gas input pipe, water output pipe, Water input pipe. It has an inbuilt gas lighter that ignites the fire. So it requires cells to keep working.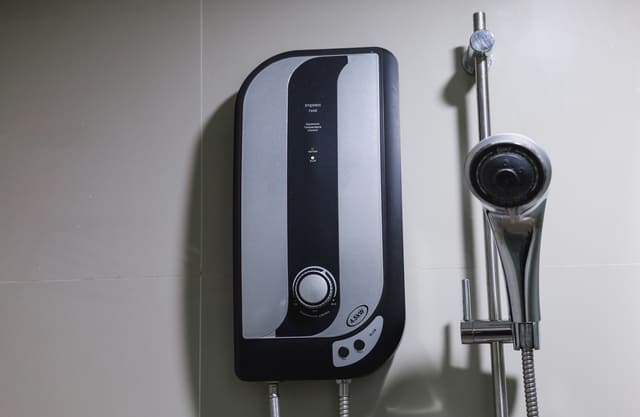 An instant gas geyser also doesn't have a storage tank. The sensor detects the temperature and protects it from overheating. These types of geysers come in 3 to 4.5 KW. These are suitable for large families too. A gas instant geyser is affordable and takes less space.
It uses oxygen to burn the gas. So you feel oxygen depletion when the flame is inconsistent. At that time, the sensor detects it and put the geyser off for safety. 
An  instant gas geyser is economical.

These geysers provide fast heating.

You have more control over the geyser.

These are easy to repair.

It has an oxygen depletion sensor.

It has a smart flow sensor that starts working when water flows from the pipe.

It has a double valve that makes it safe to use.

It has a child lock.

These are energy savers to some extent.

These geysers have a longer life.

It provides you with high safety and it doesn't have standby water loss.
Sometimes you need water to be stored, but these geysers don't have a water storage option.

It has lower efficiency.

Inconsistency in the hot water. You may feel hotter water sometimes less hot water.

A geyser with smart features has a high cost.

Its installation cost is more.

Its pipes are pricey compared to other types of geysers.

It requires a hard water softener installed in it.

It requires having a skilled plumber that costs you more.

These types of geysers have a low capacity for hot water.

These are not suitable for showers.
Are Instant gas geysers safe
?
Many people are afraid of using gas geysers. But gas geysers are safe to use. You need to care for proper ventilation and follow all the precautions. Do regular maintenance.
The electric storage geyser store the hot water for later use in its tank. It comes in many capacities like 6 litters to 35 litters. It is large in size for large families. A electric storage geyser does not fit in the small bathroom. It requires more electricity to operate. Its main drawback is that you have to wait for 10-15 minutes for hot water. Its cost of installation is high. If power is gone then no more hot water you can have. 
A electric storage geyser also has a heating element that is controlled by a thermostat. Many Geysers nowadays come with smart features like you can connect them with smart home devices(Alexa). 
It can store hot water for a longer time.

These types of geysers are inexpensive.

It saves energy.

It is easy to install.

It does not require a high flow rate of water.

These kind of geysers use an advanced technology.

You can control it with the app or smart devices.

It is simple to set up.

Storage water geysers are durable and efficiently use electricity.

These are safe to use.
It has a slow heating time.

It depends on the power. If there is no power, you cannot enjoy hot water.

Its operating cost is high.

It required more space to be hang.

It has less life than instant geysers.

You have to wait for 5-15 minutes for hot water.
Instant v/s Storage Geyser
| Features | Instant Geyser | Storage Geyser |
| --- | --- | --- |
| Power consumption. | 3 To 4.5 KW | Less |
| Time to heat. | 2 Minutes | 5-10 Minutes |
| Water flow | 8 litter per Minutes | Slower |
| Life | 5-15 years | 5-9 years |
| Storage | No | 3 to 35 littre |
| Maintenance cost | 2000-8000 | 5000-8000 |
| Applications | Kitchen, bath | Bathing |
| Warranty | 2 years | 1 year |
| Price | 6K-8K | 6K-8K |
A solar water geyser is one of the wisest geysers that are pocket friendly and use renewable resources. It reduces energy costs. You can use hot water for cleaning, cooking, and in the swimming pool too. It quickly heats the water. It has toughened glass pipes that are very durable. Its quality is very good. It saves money for you with the initial investment. It requires almost no maintenance. 
A solar water geyser can be used for domestic and industrial use. It has a solar thermal collector that transfers solar energy into heat and then warms the water. It is capable of hot the water to 60-80 degrees Celcius. It comes with freeze protection.
This water heater saves your monthly bill.

A solar water geyser requires low maintenance.

It is has no bad effects on the environment.

It produces low-carbon prints.
It is capable of heating water only.

It requires sufficient roof space to install.

It depends on sunlight.

It can't be used on cloudy, rainy, and foggy days.

Its installation cost is high.

A solar water geyser is climate dependent.

It has an annual maintenance cost that is somewhat high.

It can provide hot water for day time only. 

Its initial cost is high, So not everyone can afford it.
Sometimes You are not up to the budget or you may live in a rental house, You can't install an electric or gas geyser as you have to shift from one house to another. For this problem here I come up with a solution which is a Rod water heater. It is very useful and convenient to use. It is very compact and you can store it in cabinets. 
These rods are of 1500W. It is shockproof and safe to use as it uses copper elements with nickel plating. It is very economical to use and buy. This is a must-have rod that comes with an easy grip and is easy to clean. 
It uses no Gas.

You can control energy use.

Its initial cost is very low.

It comes in many different sizes.

It is portable.
It takes time to warm the water.

It is expensive if you left it unattended. As it continues to work. It doesn't come with an auto cut-off feature.

It can hot water for a limited quantity.

It wastes energy as the water is open while it warms the water.

It has 10-15 years of life.
Dip it in the tub or bucket that has water and switch it ON. Leave it for some time so that it can heat the water.
| Features | Rod | Geyser |
| --- | --- | --- |
| Price | 300-600 | 3K-20K |
| Time to heat. | More | Less |
| Quantity | Limited | More |
| Safety | Not Safe | Safe |
| Convinience | Difficult | Easy |
| Auto OFF | No | Yes |
| Heating | Not Uniform | Uniform |
There are many types of geysers in the market. A Solar water heater is the best if you can afford it because it is environmentally good and after installation its costs you nothing. Else you can choose an instant electric or gas geyser that provides longer life. You can check in my article the comparison of different geysers type. It will help you a lot.
Thank you so much for reading my article.
You can reach my other article here.