Whenever We talk about must-have appliances for our kitchen, This is not complete without a refrigerator. So,What is Refrigerator? A refrigerator is used to preserve food for many days. If you are buying it for the very first time, it is very difficult to choose the best one. In old days, Food was spoiled due to a lack of refrigerators and people get foodborne diseases. Refrigerators lower the inside temperature, thus lowering the bacteria and less food is spoiled. It maintains the temperature above the freezing point of water. 
More Detail About a Refrigerator
Nowadays, airflow is 360º. It comes with a dual fan for separate cooling. One for the freezer, and the second for the refrigerator. Much refrigerator use cooling gel, that freezes frozen food even when the light goes OFF.
It is capable of Auto Defrosting.

It warns you whenever there is a Power failure.

It has adjustable shelves and trays.

There are many kinds of door configurations available.

Most refrigerators are energy efficient.

The average life of any refrigerator is 14 years.

Most of the newer models come with Wi-Fi connectivity.

It comes with Edge-to-Edge shelves for storing groceries.

It can control the temperature automatically.

It has an Ice and water dispenser. So no need to open the door.

Most refrigerators are convertible with 5 modes. these are Normal mode, Extra fridge mode, seasonal mode, vacation mode, and home-alone mode.

Push notification enables it to let us know that door is left open.

Almost all refrigerators come in inverter compressors.
Gas used in a Refrigerators
1,1,1,2-Tetrafluoroethane is the gas used in refrigerators. Refrigerator gas is a chemical gas. It has a low evaporation point that condensed easily under pressure and makes the surrounding air chilled. This Refrigerator gas is an ozone-friendly gas. Earlier, ammonia and other harmful gases were used that damaged the ozone layer.

If you want to know, How much wattage your refrigerator used then it is not easy to say because it depends on many factors like the age of the refrigerator, size, and type. As you know that big refrigerator uses more wattage than a smaller one and a new fridge consumes less wattage than an older one. You can calculate Fridge Watts by :
If your refrigerator is 6 amps and it uses 110 volts then
6 amps*110 volts=660 watts
Fridge Watts= 660/3=220 average watts/hr.
What is a Digital Invertor Compressor
All the refrigerators that come under this technology are more energy efficient. It has multiple speeds that can be adjustable. Hence it has less noise. LG offers an inverter linear compressor that consumes 35% less energy.
Ice Dispenser is used to dispense the ice cube. There are two types of Ice Dispenser.
Internal 

Ice Dispenser.

External 

Ice Dispenser

.
To get ice from the internal Ice Dispenser, you need to open the door and take out the ice. But in the External Ice Dispenser, No need to open the door.
French Door Refrigerators
French Door Refrigerators get popular very quickly. These refrigerators are in a pantry-style layout. It has more capacity to store food items and has more features. If you are looking for a refrigerator for a big family, then this is good to go. French Door Refrigerators comes with double doors. If anyone has a small space in the kitchen, then French Door Refrigerators are good as it is sleek. 
More Detail about a Frech Door Refrigerators
In the starting, French Door Refrigerators are used by the prestigious family only, But after that most people preferred them. It has two doors that open outward, split in the middle. You can open individual doors or both.  It has 1 or 2 freezer doors. It saves energy due to two split doors as one door loos less cooling as compared to one big door. French Door Refrigerators has an indoor camera that connects to Wi-Fi. It is a bit large compared to a regular refrigerator.
This refrigerator comes in the top to bottom shelving style. You can store food in a verticle manner. It has one side freezer, and another side a refrigerator. It comes with an ice and water dispenser. It is slim in shape and fits in any kitchen. It has more space for a refrigerator. The best part about this is that finding food on shelves is easy. Its door size is big, so the big container fits easily inside this. 
More Detail about a 4 Door Refrigerator
This is best for those who have back problems, and who can't bend their body. Kids can easily access it. Its middle part is convertible. So the middle part can be used to store food like pastries etc. once consumed, can be converted into a freezer.
4 Door Refrigerator looks amazing.

It makes your kitchen organized.

It has a lot of space, so kids' food can be stored in separate spaces.

It saves space as it is sleek and slim.

It saves energy.

You can access everything easily.
This refrigerator has a large food compartment just below the freezer. It is 30-33 inches wide, So its doors are also wide. Mostly, Indian refrigerators are of this type. It comes in many different sizes and designs. These are traditional type refrigerators that are the least expensive or we can say budget-friendly. You need to bend down to take out vegetables, and food items from the bottom portion. It is not visually appealing. You can keep large items in the door like bottles.
| Advantages | Dis-Advantages |
| --- | --- |
| 1. This is an energy-efficient refrigerator. | 1. It has few organization options. |
| 2.It is more affordable as compared to other types of refrigerators. | 2. It does not look good for a modular kitchen. |
| 3. It has more storage space. | 3. It doesn't have to pull out drawers. |
| 4. It is easy to access the freezer. | 4. It doesn't have an ice and water dispenser. |
| 5.It is suitable for a small family. | |
Bottom Freezer Refrigerator
Bottom Freezer Refrigerators are those that have a freezer at the bottom side and a refrigerator on the top. Its cost is more as compared to the Top freezer Refrigerator. It also consumes more energy but it has more space for a freezer. Bottom Freezer Refrigerators has many organization options. Small to average families can go for it. It comes in many modern designs. You can access food easily but may feel a problem during accessing the freezer as you need to bend. It is easy to access food as it has to pull out baskets. It has many color options.
Concerns for Bottom Freezer
Bottom Freezer Refrigerators are expensive.

Sometimes food is lost at the bottom portion.

It required bending to access the bottom portion.

Bottom Freezer Refrigerators comes in two styles: Free standing style and built-in style. So choose smartly.
Undercounter Refrigerator
As its name defines itself that it is a refrigerator that is used under the counter. Undercounter Refrigerator is small in size and fits in the modules of a modular kitchen seamlessly. It is 34 inches in height. An undercounter Refrigerator has only a refrigerator, not a freezer. The door can be opened on any side means its door are reversible. It is a special refrigerator that is used to cool bottles, wine, and beverages. You can set the temperature.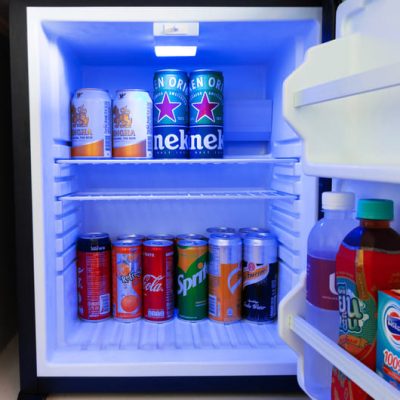 More Detail about a Undercounter Refrigerator
 Undercounter Refrigerator comes in many materials like stainless steel, aluminum, and copper. It is square. You can chill salad, bottle, beverage, water, and vegetables. It is mostly used in hotel rooms. Free Stock photos by Vecteezy
A refrigerator is used to keep our food cool to prevent it from being spoiled and we stay safe from food-borne diseases. It comes in many attractive designs and sizes. I discuss in detail the types of refrigerators.
You can read my other article on kitchen appliances here.