Do you want to preserve the nutrients of food even after cooking food? Sound Strange.? It is not strange!! It is possible using a food steamer. Your question will be:- Can I cook vegetables in steamer? Can I make idli in it? Is it used for dhokla? The big answer is Yes, Yes. It is just like magic or a blessing for housewives and working women in this busy and modern world. It saves your precious time. 
In a single batch, you can cook multiple food items. It makes you very delicious food without any compromise of taste and nutrients. You do not worry about health issues as it is safe and hygienic. It is very useful for those people who are very health conscious. It uses no oil at all. It is up to you whether you want to use oil or not. Isn't it a cool appliance? So discuss it in detail.
Steaming is a process in which water is boiled to produce steam. The hot water vaporizes and becomes steam. This steam is hot and capable of cooking food. It is almost the same as cooking food in water. Instead of keeping food in hot water, The vegetables are kept separate and cooked with heat. There is no direct contact with hot water and food. 
One of the most useful and important tools used in the kitchen is the food steamer. It is a practical tool that is used in real food making. It comes in a stacked form that has a sealed pot. All tiers are stacked. It cooks food in the steam. It comes with a pot that is filled with water to produce steam. This pot is inserted on the top of the saucepan.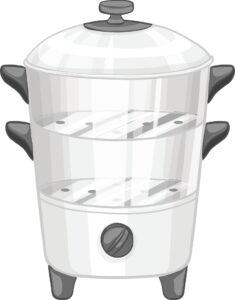 The food is placed into the insert plate. It sounds very easy and simple but you need patience and time to get an expert to use it. You can utilize your time for other tasks while your food is prepared in the steamer. You just need to attend it in between. 
You will love Food Steamer Because
It will save you time. It is very easy to use and requires less time to cook food.

You can do your other tasks while food is prepared inside the steamer. You just need little supervision.'

Health is one of the important concerns in this modern world. It provides healthy food. It locks all the nutrients in the food.

If you are worried about How food looks after cooking? Then you need not worry. Your food structure remains the same. Its color remains the same.

It cooks food using steam. It is not using oil at all. So this is one of the healthy options.

It is adopted by many people nowadays due to its benefits.

It saves your money, time, and effort too.

It does not mess up your kitchen. So, You need not worry about a messy kitchen to clean.

Its cost is very fine as compared to its benefits.
These are the steps that must be followed to use it properly.
Many types of steamers are there in the market. It is important to choose the right appliance as per your requirements. If your kitchen is small and counter space is small, then you must choose one that is small in size. For a big kitchen, You can choose a large steamer.
Fill the pot with fresh water
First, select the vegetable or food that needs to be cooked. After this decision, the quantity of water and then add the water into the pot. It is important to cook the food properly and make sure that the food will not dry.
Keep your food in the steamer
Once you fill the water pot, the next step is to place the vegetable or food inside the plate of steamer. Then set the settings according to the food type you placed inside.
The next step is to set the temperature. It depends upon you how fast you want to cook food. Some love slowly cooking some faster.
Check food whether the food is cooked or not.
The final step is to check the food whether is cooked or not. If cooked, It is the time to enjoy the food. But be careful while removing the food as it is hot. If it is not cooked, Give it another few minutes to cook.
An electric steamer is an appliance that is capable of cooking food without any hassles. It depends on electricity for its functioning. If the power goes off, You cannot use it. It is very simple to use. First of all, add water and then add the food you wish to cook on the plates or stands. Close it and lock the lid. According to the food items you have added in the steamer, choose or select the settings and you are ready to cook.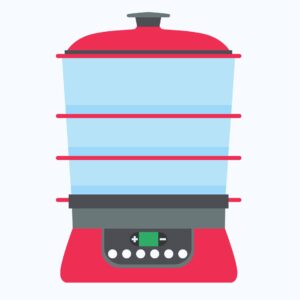 It is one of the simplest methods used to cook food in a steamer. It is very easy to use. Simply add the water to the pot and set the vegetables you want to cook. Then close the lid and place it on the gas stove. As the water starts boiling, the steam starts cooking the food or vegetables. It uses the traditional way of using gas to cook.
Combination Steamer or Oven
This combination steamer is popular by another name that is "Hot air Steamer". It is a special type of steamer because it is capable of producing dry and wet steam. You can switch the mode between these two. It can change these settings automatically as well. Suppose you are cooking meat and vegetables at the same time. It adjusts the settings and cooks both items with different steam.
Wooden or bamboo steamers have two baskets stacked on each other. The top one is used as a lid. This is placed over the hot boiling water. The steam rises up through the bottom basket and cooks the food. It is environmentally friendly. You can help the people working to make bamboo or wooden steamer. You ca read this steamer in detail from here.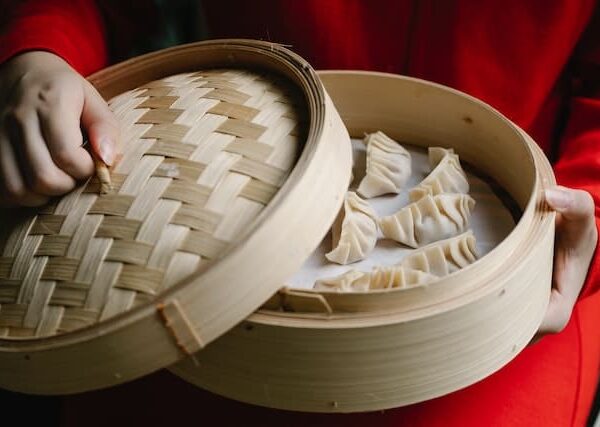 One of the most popularly used steamers is the pressure steamer. It is popular because it uses steam and pressure that utilize its power and cooks food in combinations. It takes almost half the time to cook food as compared to other steamers. It cooks food at a low temperature but steams the food at a fast speed. It retains almost all the nutrients.
In convection steamer, It uses convection to circulate the steam at normal pressure. Many of these types of steamers use a fan. It is also capable of retaining almost all nutrients because it uses more moisture and lower cooking temperature. A Convectional Steamer takes more time to cook food as compared to other steamers because it uses lower temperatures.
What to look for while buying a new Steamer
Gone are the days when there were few steamers brands and types available. Nowadays, there are lots of brands and types of steamers available. It is very confusing for everyone to choose the right one. Here I try to mention those all points that will surely help you to choose the right steamer.
The brand is nothing but a sign of trust and reputation. Always go for a reputed brand only. If you choose a steamer from a brand that is not popular or known then you may face issues with its quality, warranty, and service after the sale. This popular brand costs you a little more but it is worth the comfort and quality.
Food steamers are available in many different sizes. Its capacity varies from 3 liters to 10 liters. You must look for your family size and then choose. It is also important to take note of how many types of food items it is capable of cooking at the same time. It saves energy and time too.
If you travel a lot or you have a moving job then it is important to see whether you can travel with it or not. If its size is small, Then it is easy for you to carry.
Many job holder people are living in rental apartments. These rental houses are not big enough to hold all household appliances. So if you are under this category, Then you must look for a steamer that is capable to fit inside your storage space.
The material of the steamer may be plastic or stainless steel. It is good to choose a stainless steel material instead of a plastic one. It gives you longer life and it is environmentally friendly too.
The more functions any steamers have, the merrier the comfort it gives you. Always choose the one which is offering cooking food as per your requirements. It must be multi-functioning.
If this appliance has a timer, then it is easy for you to use it. Because you can set a timer and it will automatically go off and you can prevent food from being burnt if you forgot that food is in the steamer. It is a high-end functionality that is a must-have.
It is very crucial to know that how much water should be added to the bowl or pot for cooking. It can be easy if its pot has a water level indicator.
It is recommended to buy an appliance that is easy to clean. Nowadays appliances come in small parts that disassemble and you can clean them easily. After cleaning, You can assemble it again. Stainless steel trays are easy to clean even in the dishwasher.
Many appliances are easy to buy but their maintenance is one of the biggest issues. You can spend money on the appliance but forgot to check its maintenance cost and how to maintain it for longer life. So it's good to check it before you buy any appliance.
One of the main concerns that we have is whether it is fit our budget or not. So, always decide your budget in advance.
We all buy appliances to make our busy life easy. So our priority must be easiness in using it. 
Few Disadvantages of Steamer
It takes time to cook food in it.

If you are a gravy lover, then it does not come with a gravy option. You have to compromise for this.

It requires attention to check whether it has water or not for cooking. Because water is the main thing used for cooking. It is just like fuel.

It retains more moisture than other types of cooking. So it leads to more bacteria growth after some time of cooking.

It is not suitable for all types of food to be cooked.
This appliance is not expensive. Its price starts from Rupees 299 for the plastic steamer. But the stainless steel one starts from Rupees 1200.
A food steamer is an appliance that is used to cook food or vegetable using steam. It is one of the best options to get the maximum nutrients from food. It is affordable and easy to use. I mention the points that will help you buy this appliance above in the section with advantages and disadvantages too.
Thank you for reaching my article. I hope you enjoy this article.
You can read my other article here.
Photos credit to Vecteezy.